Safe Auto Insurance Co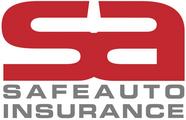 Safe Auto Insurance Co
4 Easton Oval
Columbus, OH 43219
Phone: (614)231-0200
Toll Free: (800)723-3288
Year Founded: 1993
Web:
www.safeauto.com
Safe Auto Insurance offers auto insurance products in 16 US States. SafeAuto is based in Columbus, Ohio, and was formed in 1993.
Coverage States (as of Feb 2012): Ohio, Indiana, Kentucky, Georgia, Pennsylvania, South Carolina, Tennessee, Louisiana, Mississippi, Illinois, Missouri, Arizona, Oklahoma, Kansas and Virginia and Texas.
In 2013, the company used Norm Macdonald as their celebrity spokesperson.
Social profiles for Safe Auto Insurance Co

Safe Auto Insurance Co on Facebook

Safe Auto Insurance Co on Twitter

Safe Auto Insurance Co on LinkedIn

Youtube
(handle: LegalForLess)
Reviews and Ratings for
Safe Auto Insurance Co
Be the First to Review Safe Auto Insurance Co
Our data on Safe Auto Insurance Co was last reviewed, or updated, February 11, 2013
Revision History
02/11/2013 07:42 AM : Updated video channel.
03/29/2012 02:12 PM : Updated fax number for Safe Auto
02/07/2012 04:11 PM : Updated contact information, year founded, states where licensed.
02/15/2011 05:15 PM