Kaiser Permanente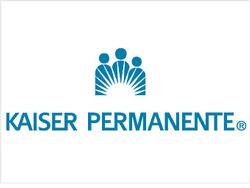 Kaiser Permanente
Kaiser Plaza 19th Floor
Oakland, CA 94612
Phone: (800)245-3181
Toll Free: (800)245-3181
Year Founded: 1945
Web:
www.kaiserpermanente.org
From the www.kp.com:
"For individuals and families, we offer more than just health insurance and/or health coverage. We offer health care that centers around you from refilling most prescriptions online to e-mailing your doctor's office anytime. Enjoy affordable coverage and a connected group of doctors, services, and online tools. We care for your total health mind, body, and spirit."
The company was founded in the late 1930's and was opened for public enrollment in 1945.
Social profiles for Kaiser Permanente

Kaiser Permanente on Facebook

Kaiser Permanente on Twitter

Kaiser Permanente on LinkedIn

Youtube
(handle: kaiserpermanenteorg)
Reviews and Ratings for
Kaiser Permanente
Be the First to Review Kaiser Permanente
Our data on Kaiser Permanente was last reviewed, or updated, July 19, 2012
Revision History
07/19/2012 10:26 AM : Editorial update
04/18/2012 09:39 AM : Updated social links, address, contact, and description.
04/18/2012 09:33 AM : Updated company logo