Insurance Level > States > Insurance in Kentucky
Insurance
Quotes in Kentucky
Useful links when shopping for insurance in Kentucky
Kentucky Insurance Department: State of Kentucky Insurance Department
Kentucky DMV: State of Kentucky Department of Motor Vehicles

Kentucky Minimum Insurance Requirements
State insurance limits reviewed/updated in April 2013
Bodily Injury Liability: $25,000 / $50,000
Property Damage Liability: $10,000
Uninsured/Underinsured Motorist Bodily Injury: $25,000/ $50,000
Find the cheapest Car Insurance rates when you compare: Kentucky Car Insurance
Enter your zip code in the above quote form to compare insurance rates in Kentucky.
To locate insurance in your town or city, choose from the list below
Select your City for find an Insurance Quote near you. The top 100 cities in Kentucky, based on population, are listed. Select your city, or the city nearest to you, to begin your insurance quote.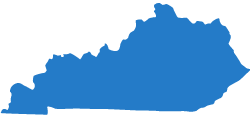 Select Your City
Cities beginning with the letter: A B C D E F G H I J K L M N O P Q R S T U V W Y Z
A
B
C
D
E
F
G
H
I
J
K
L
M
N
O
P
Q
R
S
T
U
V
W
Y
Z