Insurance Learning Center > Home Insurance > Home Fire Planning >
Have an
Inventory and a Plan
I want you to picture one thing right now. Close your eyes and imagine yourself driving up your street and seeing nothing but a smoldering pile of ashes in place of your home. It doesn't matter if you live in a home, condo, townhome, or apartment. The scenario is the same. You pull down your street and there is nothing left! No personal property, no memories, no clothing, nothing.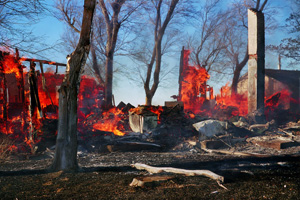 Image Christian Patterson
For each of us, the situation would be horrible and we would have some emotions to contend with. For some, this might be our family home. For others, simply a rented apartment. But in every case we will have to deal with grief and loss. This is never easy.
There are very few things that can help in these times, but one thing that can help is to have an action plan. Know what to do if this should happen to you. Peace of mind comes with planning. Our brain dislikes uncertainty. and uncertainty is diminished with some planning.
Things to plan.
1) Plan an emergency location You should have a safe place to go in the case of an incident. It doesn't have to be a house fire, simply losing heat or power can be enough for you to call this plan into action. Your emergency location could be a friend or relative's house, or even a local hotel. The simple act of planning will ease your mind at a time when your brain is clouded with emotion due to a loss or incident.
2) Prepare a home inventory (home inventory spreadsheet). A home inventory can be in many forms. We often recommend that an insured keep receipts, a written schedule of items, along with pictures and/or video. When taking an inventory video, you will create physical proof of an items existence along with a record of items that will spur your memory at the time when you are filing a claim report. When preparing your home inventory video, open draws and closets to record items that might be missed. If nothing else, this will provide you with a visual cue of property in your home.
3) Proper Insurance Coverage Having the proper home insurance coverage or property insurance coverage will be a godsend if a loss occurs. You need to know (right now!) if your current insurance policy will cover you properly should a major loss occur. Ask your agent:
| | |
| --- | --- |
| Home Insurance Comparison | |
Will my policy pay for additional living expenses, such as a motel, hotel, or rental home?
Will my insurance coverage include coverage for water backup?
Will my current homeowner policy pay to bring my home up to code when rebuilding after a loss?
The questions above should be of concern to anyone with insurance coverage for their home, condo, townhome, or contents (renters). They are questions that you should answer before a loss ever occurs to make the proper decision on what insurance coverage you need today.
Let's do what we can, today; to help ourselves should a horrible loss occur.
Request a Home insurance quote and speak with an insurance expert near you. Understand your coverage and ask about your coverage before a loss occurs, not after..
Free Home Inventory Worksheet Download (XLS file)