Insurance Agent Reviews
Review your insurance agent today.
When shopping for insurance, it is incredibly helpful to know a little more about an insurance agent. If you have had a good or bad experience with an insurance agent, we would love for you to share that experience with our visitors. We aim to be the number one source for local insurance agent reviews and ratings.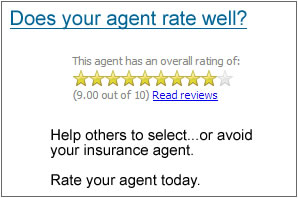 Our rating system is simple and allows you to include as much detail as you would like regarding the agent. Tell your story, rate the agent and include detail that you feel would help other consumers when shopping for insurance.
Get started with your insurance agent review by navigating to your own agent. Begin with you state, select your City or Town and then choose your agent.
If your agent is not listed, of if you are an agent looking to become listed in our directory, you can "add an agent" on this page

OR Enter your zip code to begin locating your agent.